Navigation
Garmin is transforming in-vehicle navigation with new hybrid navigation solutions that improve performance and accuracy with cloud-based maps, routing and integrated connected services. Today, Honda and Mercedes-Benz are among the leading brands that feature factory-installed Garmin navigation units. Beginning in 2020, Garmin will launch navigation for a new OEM customer on a global basis, including many EV vehicles with Garmin charge station routing.


Cloud-based Navigation
Garmin is globally launching for a major new OEM a new vehicle navigation system that uses cloud-based maps, routing, traffic, weather and parking data to generate the highest-quality, most reliable route guidance in the industry. Destination search and routing are always done with the latest data and without the need for expensive or burdensome map updates.
Hybrid Cloud Map Architecture
Using a robust blend of cloud-based computing with dynamic onboard map tile caching, Garmin hybrid navigation solutions provide efficient, server-based routing, search and map updates. Map tiles for your area and route are cached in case connectivity is lost.
Weather Along Route Navigation
Garmin is launching the first and only weather solution that automatically provides a customized, mile-by-mile weather forecast along the vehicle's route or likely path. Let your customers know of upcoming heavy rain, hail or other weather before it happens.
Multimodal Solutions
Since the best way to get from point A to point B sometimes involves more than driving, Garmin in-vehicle and smartphone navigation automatically looks for routes that can include a combination of driving, mass transit and walking.
Door-to-door Connectivity
Whether it's a daily commute or a visit to an unfamiliar city, Garmin multimodal navigation makes it easy to access area mass transit options. The phone app even provides pedestrian guidance from station to doorstep.
Know Your Options
Upon selecting a multimodal route, users are kept informed of transit status en route, i.e., traffic delays, train schedule changes, etc. There's also guidance for car parking and locations where mass transit can be boarded.
Enhanced Positioning
Synthesizing data input from multiple global navigation satellite systems (GNSS) with a collection of vehicle sensors — i.e., cameras, speed, inertial, wheel angle — Garmin integrated technologies support the industry's most advanced positioning solutions for car navigation.


Precise Multisensor Positioning
Adding inputs from onboard cameras for landmark-referenced positioning, radar and/or HD maps enables even more precise lane-level positioning that can support automated driving and other driver assistance features.
Seamless Vehicle Solutions
Multi-GNSS network reception (GPS, GLONASS, Galileo) integrated with onboard vehicle sensors allow Garmin systems to precisely track position in challenging environments such as "urban canyons" and parking garages where GPS reception is limited or not available.
Augmented Reality
With our experience in aerospace cockpit synthetic vision technologies, lane-level vehicle positioning and automotive camera integration, Garmin is uniquely positioned to provide OEM HUDs with augmented reality data to enhance navigation and driver situational awareness.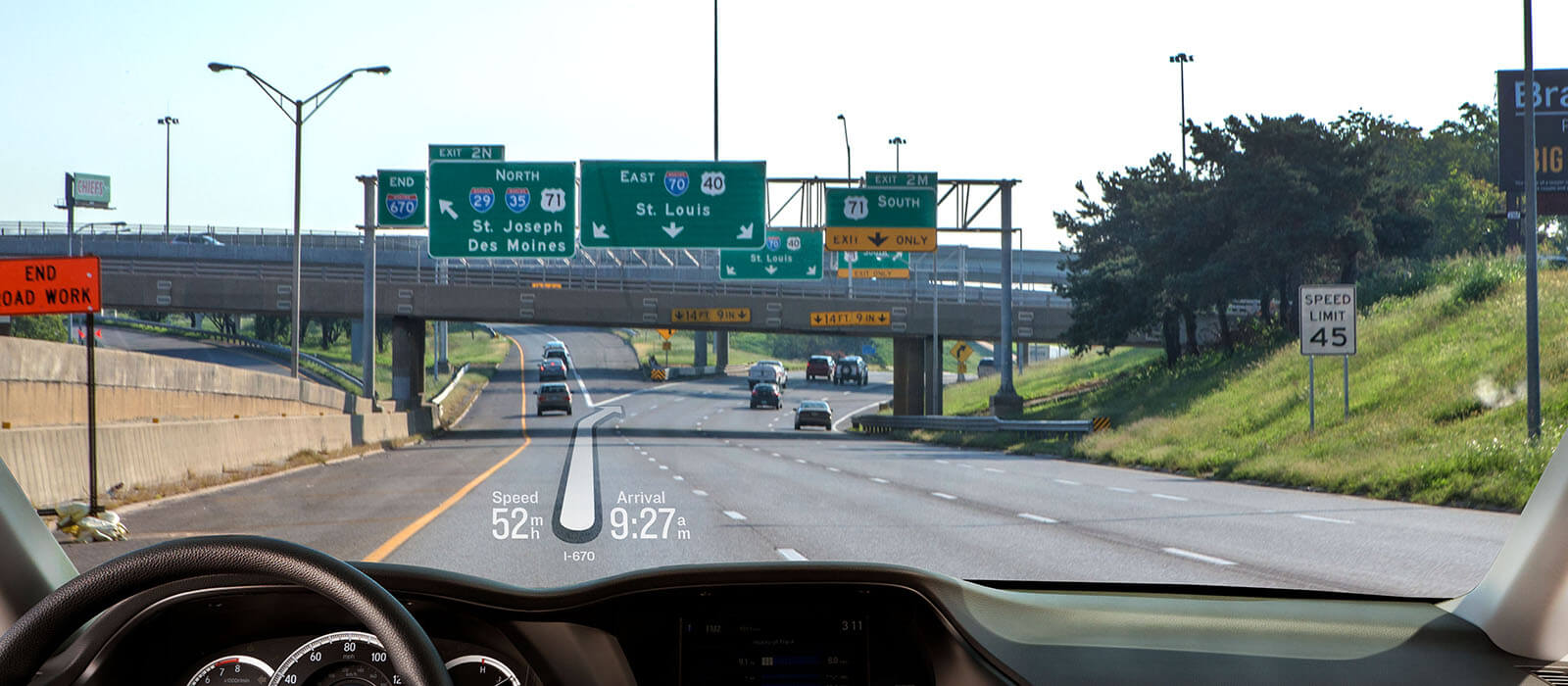 Enhanced Lane-level Guidance
Using database-generated graphics to augment your real world view out the windshield, Garmin HUD technology seamlessly integrates visual guidance information so you can focus on the road and your driving.
Augmented Street Labeling
Providing clear turn-by-turn directions — enhanced with virtual street signs, vehicle and pedestrian detection, alerts for front collision/lane departure hazards and more — the Garmin augmented reality interface works to make driving safer and less stressful.
Let's see what we can accomplish together.
Contact Us